Hungary's government will stand up for "special Hungarian considerations" at all fora discussing the situation in Israel as freeing Hungarian hostages and bringing those in Gaza to safety is of primary importance, the foreign minister said in Brussels on Monday.
---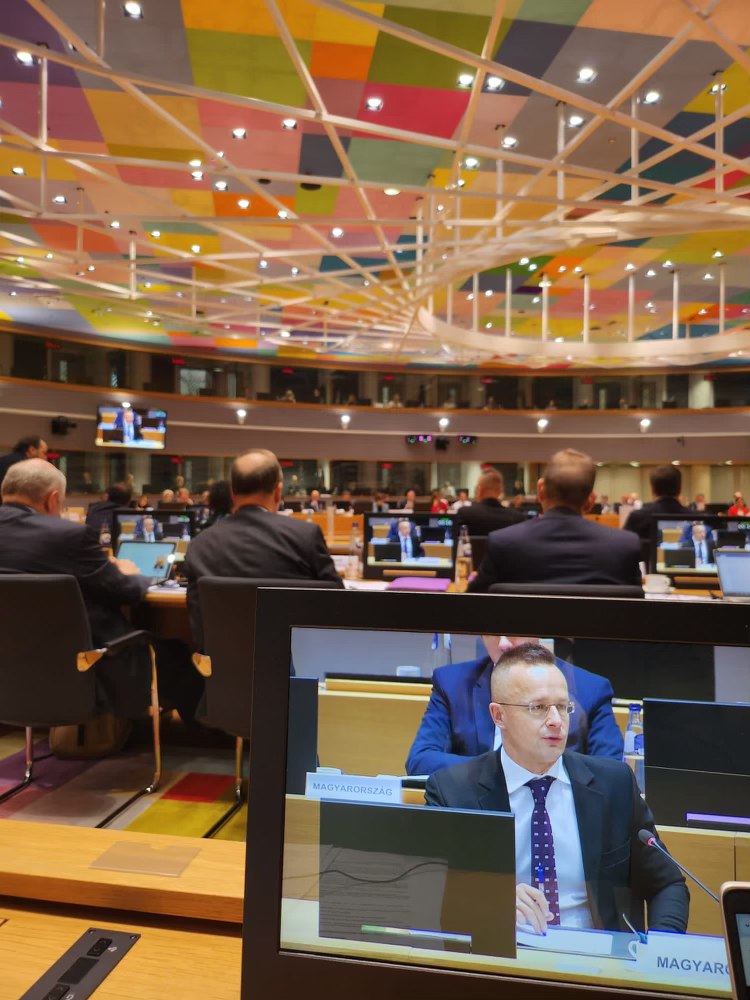 Speaking on the sidelines of a meeting of European Union foreign ministers, Péter Szijjártó told at a press conference that the roots of the conflict "should not be forgotten or relativized" despite the varied takes of Member States on the situation. "So there has been a brutal terrorist attack here, thousands of rockets fired by a terrorist organization into Israel, killing and wounding thousands of innocent people. What is happening now is a counter-terrorist operation, a fight against terrorism," he said. Then, he pointed out that the success of military operations is not only in the interest of Israel but of the whole world.
He underlined that the government will demand the implementation of particular Hungarian aspects in all international fora.  One of these is the fact that there are still seven Hungarian citizens stranded in Gaza who cannot leave for security reasons. "We are in constant contact with them. The place they are staying in was hit yesterday, and several of them were slightly injured and taken to hospital. They have all left it by today and are organizing their journey to the border crossing point in Rafah," he said, referring to the only border crossing point in the Gaza Strip with Egypt. Szijjártó said he had agreed with his Israeli and Egyptian counterpart that the Hungarian citizens as well as their two Palestinian relatives may leave the Gaza Strip once they arrive to Rafah.
"Regarding the conflict in the Middle East and fight against terrorism, Hungary will only support solutions that enable all dual citizens and their family members to leave the Gaza Strip in case they want to," he said. Hamas is also holding five Hungarians hostage, he underlined and thanked Qatar for its mediation in the negotiations.
"We can back resolutions and proposals of any international organization only if it calls on Hamas to free hostages immediately, unconditionally," he said. The international community also has a task to prevent an escalation, as a war between states in the Middle East "would have unforeseeable consequences," he said. Szijjártó also highlighted the importance of support for Egypt, saying that instability would dramatically affect European security. He said Cairo has a significant role in curbing migration to the continent.
"If Egypt loses its stability and can no longer act as a barrier, the continent could face migration pressure and security challenges it does not seem to be prepared for," he said.
He added that Hungary supports the health care of Gaza refugees in Egypt with HUF 40 million.
Péter Szijjártó also said that his Ukrainian counterpart also joined the meeting via a video call to seek more support for Ukraine's fight. Hungary's stance is that it is time for the EU to confront the outcome of its political decisions on Ukraine, Szijjártó said according to a ministry statement.
The EU, he said, should assess the extent to which its policies had achieved their intended goals, as well as their impacts on the bloc and its foreign relations, the Member States, Russia and Ukraine.
"If we looked at what this enormous financial support of more than 80 billion euros has been spent on so far (…), we'd see that only a small fraction of the goals of these decisions can be said to have been successful," Szijjártó said." The fact is that the sanctions have, at the very least, shot the European economy in the foot," he said." It has also become clear that this war can't be resolved on the battlefield as it only leads to casualties and destruction. It is also clear that the hopes of a successful breakthrough for the Ukrainian counter-offensive have by today become an illusion."
Szijjártó said the EU will put forward a proposal on its 12th package of sanctions this week. "I think it's fair to ask how we can have a meaningful debate on a 12th sanctions package when there hasn't even been any comprehensive analysis on the first 11 packages," the minister highlighted.
He added that Brussels and certain Member States were not prepared to confront the damage the sanctions had done to the European economy and how they had failed to fulfil their purpose. He underlined that the sanctions have failed to achieve their main goals of bringing the Russian economy to its knees and bringing about peace.
"And we also don't see a possibility for a meaningful debate on transferring tens of billions of euros more to Ukraine when the EU and its Member States haven't received any kind of briefing or account of how the 80 billion euros approved so far has been spent," he pointed. The minister also underlined that "there has been enormous pressure" on Hungary to agree to another 500 million euro payment from the European Peace Facility for weapon deliveries to Ukraine.
"Of course, I did not contribute to this at today's meeting either, as we continue to maintain our position that until we receive a guarantee from the Ukrainian anti-corruption agency that the OTP or any Hungarian company will not be replaced on the list of international sponsors of the war based on trumped-up charges, we will not be able to move forward on this issue," he declared. "Some called it unfair, others said it was scandalous, but I asked my EU colleagues not to mislead the public," he said.
"This isn't support for Ukraine. These 500 million euro would help Member States, which decided to deliver weapons as sovereign countries, to recover part of the price of those weapons," he said.
"Hungary will not contribute to paying 500 million euros until the Ukrainian anti-corruption agency guarantees that Hungarian companies will not land on the list of sponsors of the war based on unfounded and sometimes ridiculous charges," he said.
Regarding Ukraine's EU candidacy, Szijjártó said the country was "very far from fulfilling the requirements and even from any sort of progress." He emphasized that in the field of national minority rights, which are also considered necessary by the EU, not only has no progress been made in the past period, but the situation has further deteriorated. "We have had reports that the Ukrainian education ministry had instructed schools that teachers and students should use the official language, Ukrainian, even during breaks." The government sees no reason to advance Ukraine's candidacy, he said.
The Minister, therefore, explained that the Government would not consider any progress in Ukraine justified. "Besides, the European Union should take peace to third countries rather than importing war into the bloc," he said.
Szijjártó said he expected mounting pressure on the issue. "I think it is particularly cynical on Ukraine's part that they're not even trying to solve the issues important to us. In no way can this be interpreted as a sign of a willingness to cooperate fairly."
Source: MTI-Hungarian News Agency