The Hungarian government is urging a fair EU financial framework through which the European Union will be able to help economic recovery in Europe with flexible means and measures, Justice Minister Judit Varga stated after a video conference of the General Affairs Council.
According to the summary sent to the Hungarian news agency MTI, regarding the European Commission's proposal on the next multiannual financial framework (MFF) and the Recovery Fund the Justice Minister highlighted at the event that in order to offer a solution that is acceptable for all Member States, the proposal "cannot leave anyone behind".
Therefore, it must be primarily fair and balanced; the common statement adopted by the V4 prime ministers on 11 June can offer a sound basis for this, the politician pointed out.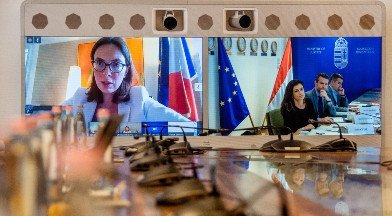 Ms. Varga highlighted that there is no general, one-size-fits-all crisis management solution.
"Hungary has implemented major reforms in the past few years, and thanks to the Hungarian people's efforts, it is has made good progress in the process of convergence," she said.
Therefore, the Member States pursuing disciplined economic policies primarily need further investments for a swift recovery, rather than structural reforms, Ms. Varga stressed.
The Minister added that the recovery effort in the Central and Eastern European Member States must be based on a reinforced cohesion policy "which has already proved its worth, has created an added value in Europe and whose contractual goals are just as topical today as they were before the crisis".
Ms. Varga laid down at the same time that the Hungarian government's position remains that a successful fight against the epidemic cannot be punished with the withdrawal of funds.
The Justice Minister also observed that if they succeed in remedying these problems and reaching a fair agreement, Hungary will be able to support an overarching EU recovery plan.
(Ministry of Justice/MTI)