In its opening speech, Tibor Stelbaczky deputy permanent representative highlighted that without addressing health determinants health policy is not more than sick policy and it is an important challenge for Europe that it has a healthier population. The Hungarian Government has introduced a series of measure tackling unhealthy food and promoting healthy nutrition at the level of specific foodstuffs and institutions providing public catering. Setting compulsory TFA limit in foodstuffs was introduced in 2014, and Hungary wishes to advocate for similar EU legislation as this option also has been recognized in the report of the European Commission.
György Hölvényi MEP co supporter of the event confirmed that the most effective tool for decreasing disease burden resulting from TFA intake is setting maximum TFA content limits. Experiences gained in Denmark provide clear justification for this policy option. Mandatory labelling and voluntary undertakings from industry will never be effective enough to achieve the desired public health results.
Alojz Peterle MEP declared that the negative impact of artificial trans fats on heart health is beyond dispute, no beneficial health effect has been identified and regulatory TFA limit is necessary. In recent years, the EP have intensified actions, as several workshops and panel discussions focussed on this issue. TFA reduction is a challenge that cannot be solved by politicians alone and the food industry, the caterers, restaurants, canteens, supermarkets and other food suppliers are the key players.
Roberto Bertollini EU Representative of the World Health Organization pointed out that there is overwhelming evidence on the adverse effect of food high in TFA content. Although the industry has voluntarily reduced transfat ratio in foodstuffs, there are groups of the society, in particularly the poor people, who are still highly exposed to health risks resulting from this bad ingredient.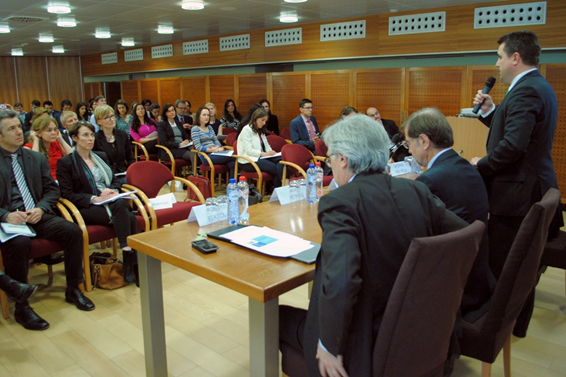 Susanne Løgstrup director of European Heart Network drew attention to the fact that 80% of cardiovascular diseases could be avoided if determinant factors are changed. TFA is one of these factors, and regulatory content limitation is, as "low hanging fruit", is probably the easiest way to make a change. So the time for action has come.
David Coleman and Andrea Cataruzza spoke on behalf of Mars Incorporated and gave a clear explanation why some of the industry players found it important to ask, in a common letter with other stakeholders, for compulsory TFA limitation in the EU. Harms caused by TFA is a scientific fact and there are alternative solutions. Mars also provided detailed description on the chemical properties and effect mechanism of trans fatty acids.
In order to hear the voice of small and medium sized enterprises, Sándor Sánta executive manager of Chocco Garden Ltd sent his message. While SMEs shares the importance of regulatory TFA reduction, it is important for them, that sufficient transitional period and state supports and incentives are provided and communication of the new measures is coordinated in order to highlight the spirit of cooperation of all the stakeholders.
Miklós Szócska former Hungarian minister of state for health described in its message that in the light of the very bad Hungarian mortality rates how important it was to introduce a series of measures ranging from non-smoking regulations to TFA reduction. After the introduction of the new legislation, follow up measures are indispensable for efficient implementation and beneficial effects.
Jan Wollgast scientific and technical project officer of the European Commission Joint Research Centre provided a detailed presentation of the Commission TFA report. As it is widely known, the document concludes that legislative steps are necessary to limit the TFA content of foodstuffs, and this option deserves further assessment.
Stéphanie Bodenbach head of section, European Commission DG SANTÉ - Unit E4 Nutrition, food composition and information, informed the audience on the future steps planned by the Commission. The Commission has set up an Interservice Steering Group who should agree on an Inception Impact Assessment to be published for consultation.
At the end of the event Boot Letteke senior policy advisor of the Netherlands Ministry of Health, Welfare and Sport gave an overview of the Dutch Presidency related to food improvement with central message of "Making the healthy choice the easy choice".
The event was followed by a cocktail reception.
The presentations and speeches are available at the website of the Permanent Representation clicking here.