On 10th of October 2018, a lunch debate took place at the Permanent Representation of Hungary to the EU on the draft regulation on manufacturing waiver related to supplementary patent protection certificates. The event was organized by Antall József Knowledge Center and gathered speakers from a wide range spectrum in order to present the issue from different perspectives.
---
The debate was moderated by Xavier Seuba, Associate Professor of Law at University of Strasbourg.
The first speaker was MEP György Hölvényi, member of the Environment, Public Health and Food Safety Committee. The MEP recognized the beneficial economic effects linked to the Supplementary Protection Certificates (SPC) waiver, at the same time he also expressed the wish of maximizing attainable benefits for patients. For this purpose, he considered that stockpiling possibility enabling immediate access on patent expiry (day one entry stockpiling) and a shorter transitional period ending in 2021 is indispensable.
The Commission's proposal allows the waiver only for third country markets where no IP protection prevails, and would be applicable only 10-15 year after the entry into force.
Christine Dawson director of the European Social Insurance Platform (ESIP) endorsed the position expressed by the Hungarian government at the last June Health EPSCO Council. According to ESIP, day one entry stockpiling and shorter transitional period is a key to provide access to patients to medicines and to enable healthcare payers to finance the healthcare system in a sustainable way.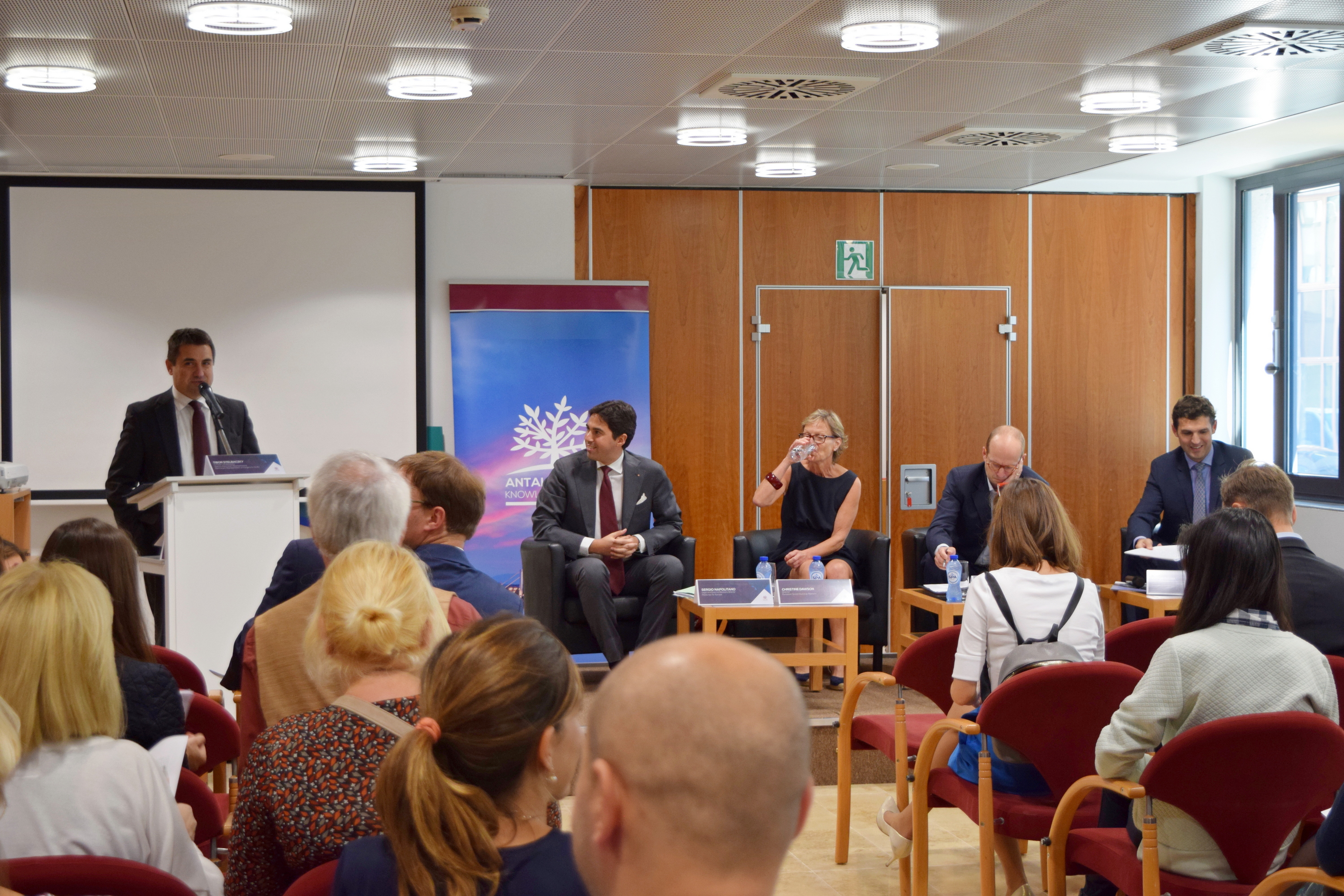 Maximilian von Olenhousen head of Novartis EU relations presented the position of European Federation of Pharmaceutical Industries and Associations (EFPIA). The director underlined the importance of maintaining a European economic ecosystem that supports innovation and can keep talent on the continent. He expressed the hope that the forthcoming Commission will apply a systematic approach at EU level to promote biotech clusters. Innovation is crucial for patients in order that they can have access to new therapies and diagnostics.
Sergio Napolitano Legal and External Relations Director of Medicines of Europe shared the importance of patients' access to medicines. From this perspective, it is critical that manufacturing capacities remain in the EU, otherwise we can easily confront medicines shortages. He referred to the Commission's Impact Assessment which points out that day-one entry stockpiling could secure further 4% savings in health related public expenditures (this is why it is surprising that the Commission discarded this policy option). Shorter transitional period is also needed to apply the waiver, and notification obligations should not prevent the efficient application of the new rules.
After the questions and answers session, deputy permanent representative Tibor Stelbaczky concluded the debate. The Ambassador highlighted that pharmaceuticals are not everyday consumer products and are fundamental elements of the healthcare system. This is why it is important that besides innovation timely access and sustainability is ensured. With the day-one entry stockpiling and a shorter transitional period the full public health potential in the SPC waiver could be exploited.