Hungary will not participate in the supply of ammunition to Ukraine, but at the same time it will not prevent other EU countries from doing so, and therefore the Government will apply the institution of constructive abstention in this matter, Minister of Foreign Affairs and Trade Péter Szijjártó announced in Brussels on Monday.
Speaking at a press conference on the sidelines of a meeting of the EU Foreign Affairs Council, the minister said that two proposals were on the agenda to increase arms transfers. The first is that the European Peace Facility would finance the supply of artillery ammunition to Ukraine from Member States' own stocks to the tune of €1 billion.
---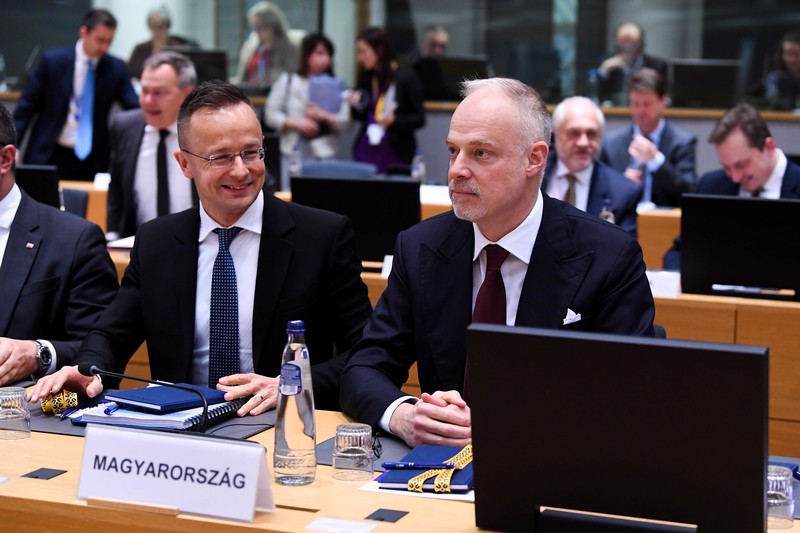 "Hungary is not supplying weapons for this war, and we will not supply weapons, we want peace. That is why we are not taking part in this operation. We are not supplying ammunition to Ukraine. However, we will not prevent others from doing what they want in this regard," he said.
He added that our country's contribution to the European Peace Facility is one per cent - roughly €10 million - which will be used for other purposes at Hungary's request: to strengthen stability in the Western Balkans and to ease migration pressure.
The second proposal is for the EU to transfer to Kiev as much as possible of the ammunition it has jointly purchased, also worth €1 billion.
"Hungary is not involved in this either, we are not buying ammunition to send to Ukraine. Here too, we will use the instrument of constructive abstention, and here too we will ask for the contribution of around ten billion euros to support stability in the Western Balkans and to reduce migration pressure.
"We continue to believe that what is needed is not arms transfers but peace as soon as possible, and for peace to come as soon as possible, we need a ceasefire and peace negotiations," he concluded.
Szijjártó said that there is still a climate of war in Brussels and that pressure is mounting on countries that are speaking out for peace, but the Hungarian government knows that a diplomatic settlement is the only way to save human lives, and therefore it will continue to stand up for national interests and the cause of peace.
"No matter what pressures are put on us in the period ahead, we will continue to stand for peace. We will argue for peace as part of the global majority," he underlined.
As an example of the increasing pressure, he cited the criticism he received today for his position in the UN Security Council.
"It has been said that it is not right for someone from the European choir to sing out in international organisations, which is quite astonishing, because the European Union is made up of sovereign countries. These sovereign countries pursue sovereign foreign policies, and we therefore reject any pressure that seeks to question, restrict or take away the sovereignty of Hungarian foreign policy.
The Minister then also touched on the issue of the disenfranchisement of the Hungarian minority in Ukraine, which he said he had drawn his colleagues' attention to on several occasions, largely in vain.
He stressed that he had asked the EU High Representative for Foreign Affairs and Security Policy, Josep Borrell, to make it clear that respect for national minority rights is one of the most fundamental European values when the EU officially communicates with its Ukrainian partners on integration.
"I asked the High Representative to act to ensure that Ukraine respects the rights of the Hungarian national community," he said.
"It is unacceptable that while more than 1,300 schools and kindergartens in Hungary have already accepted Ukrainian refugee children and students, the 99 Hungarian primary and secondary schools in Transcarpathia are threatened with closure from 1 September under the current Ukrainian legislation," he pointed out.
Finally, he stressed that "I have also made it clear that the Hungarian position with regard to the Ukrainian integration process will be determined mainly by whether Ukraine respects the rights of the Hungarian national community and restores to the Hungarian national community the rights it enjoyed before 2015".