Hungary is ready to help Ukraine, but will not accept the proposed new EU borrowing to further support the country in war, the Hungarian Finance Minister said in Brussels on Tuesday.
---
Mihály Varga, speaking to Hungarian journalists after a meeting of the Ecofin Council consisting of EU Member States' finance ministers, stressed that Hungary does not support this form of assistance because it has bad experiences with EU borrowing. Hungary has not yet received the aid from the EU loan taken out during the coronavirus epidemic, he underlined.
He said the European Commission is proposing a financial assistance package of €1.5 billion per month in 2023, up to €18 billion per year, to cover Ukraine's financing needs. The EU Commission is asking the Member States' authorisation to borrow the necessary funds. It also wants Member States to take over the interest payments on the loan of around €630 million, said the minister.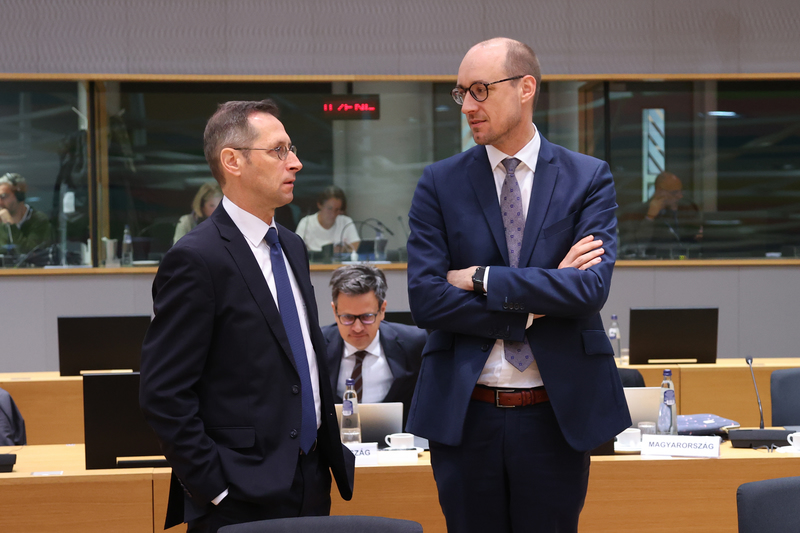 Mihály Varga also pointed out that the International Monetary Fund (IMF) estimates that Ukraine would need €3-4 billion a month (the equivalent of HUF 1200-1600 billion) to keep the state running. Hungary is willing to contribute to this amount, but does not support borrowing, he said.
The finance minister stressed Hungary is ready to help Ukraine further, having received more than a million refugees so far and has already spent more than 31 billion HUF to support the war-torn country since the war began on 24 February. He recalled that Hungary already provided significant amount of aid to Ukraine: before the war, by supporting its macro-financial assistance, and by strengthening the Hungarian minority in Ukraine.
"Hungary is ready to continue supporting Ukraine in financially simpler and more efficient ways, by concluding bilateral agreements, even from its national budget," Mihály Varga said.
He also underlined that the Hungarian government is working to ensure that the country has access to the EU Recovery Fund as soon as possible. To this end, the government is in conduct intensive negotiations with the European Commission, although it is "surprised" that the Brussels body draws up new requests during the talks.
He said that the Commission intends to present its assessment on 22 November on the commitments needed for the adoption of the Hungarian recovery plan. The minister concluded by expressing the hope that the negotiations could be concluded soon, by the end of the year at the latest.
Source: MTI - Hungarian News Agency